02.07.2010:

VALENTINA
Sacamos esta perrita, atropellado de un carro y con una fractura de la pierna, de un hueco a lado de la calle principal de Atenas. Poco despues podemos encontrar los duenos. Ya tuvemos algunas donaciones para la cirurgia, pero ellos decicieron en dormirla porque no puden invertir en los gastos que quedan.
We found this dog beside the main street of Atenas, hit by a car and with a broken leg. Later we were able to locate her owners. Although we had already some donations for the surgery, unfortunately they decided to put her to sleep as the rest of the costs were to high for them.
Wir fanden diese Hündin neben der Hauptstasse von Atenas, von einem Auto angefahren und mit gebrochenem Bein. Später konnten wir die Besitzer ausfindig machen. Obwohl wir bereits einige Spenden für die Operation hatten, entschieden diese sich zu unserem großen Bedauern, die Hündin einschläfern zu lassen, da ihnen die Kosten zu hoch waren...

Por descracia, todavía hay demasiados animales ammarrado. Alguna gente solamente ponen una cuerda alrededor del cuello de sus mascotas y atarlos - resultando en heridas terribles. Tambien ya teníamos que liberer una gata (!!!) encadenada - amarrado por sus "dueños" como un castigo debido a que estaba persiguiendo a un pollito...

Unfortunately, there are still too many animals held chained. Some people just put a rope around their pets neck and tie them up - resulting in terrible wounds. We even had to free chained cats (!!!). Chained by their "owners" as a punischment because they were chasing a chick...

Leider werden immer noch viel zu viele Tiere angekettet gehalten. Wenn dann auch nur noch ein Strick um den Hals gelegt und festgezurrt wird, ergeben sich dadurch fürchterliche Wunden. Wir haben sogar schon Katzen (!!!) angebunden gemeldet bekommen - als Strafe, weil sie einem Kücken nachgejagt sind...

BEATRICE MAR 2010

DUBAI MAR 2010

ESTRELLA ENE / JAN 2010

B R U N O :
| | | |
| --- | --- | --- |
| ENE /JAN 2009 | FEB 2009 | MAR 2009 |

MOLLY

04.12.2008: 09.01.2009:

29. OCT. 2008: LA MANDARINA / ATENAS CENTRO:
12. NOV. 2008: BASURERO / DUMP / MÜLLKIPPE ATENAS:

Estos animales tenían un muerte doloroso después de que alguien había colocado veneno - tambien peligroso para humanos - en una zona residencial en el centro de Atenas. Hay dos perros para quejarse, tres gatos y cinco pollos. La policía estaba en el sitio.

Este gato encontramos envasados herméticamente en una bolsa de plástico en el basurero de Atenas. El pobre animal estaba vivo! Nos lo trajo al veterinario, donde lamentablemente tuvo que ser sacrificado.

This animals had to die a painfull death after they were poisoned within an urbanization in the center of Atenas. This poison is also very dangerous for humans, especially children. 2 dogs, 3 dogs and 5 chickens were the victims. Police was on the scene.
We found this cat in a properly closed plastic coffee bag at the dump of Atenas. The boor creature was still alive! We brought her to the vet where she must have put to sleep.
Diese Tiere mussten eine qualvollen, Tod erleiden, nachdem jemand in einer Urbanisation im Zentrum von Atenas auch für Menschen gefährliches Gift ausgelegt hatte. Es sind 2 Hunde-, 3 Katzen- und 5 Hühnerleben zu beklagen. Die Polizei war ebenfalls vor Ort.

Diese Katze fanden wir, fest in einen Plastiksack verpackt, auf der Müllkippe von Atenas. Das arme Tier lebte noch!!! Wir brachten es zum Tierarzt, wo es leider eingeschläfert werden musste.

CACHORRO ABANDONADO - ABANDONED PUPPY - HERRENLOSER WELPE
Encontramos al lado de la calle, despues de una llamada de los vecinos, a este cachorro de aproximadamente 4 meses de edad. Estaba aun vivo pero en malas condiciones. El veterinario tuvo que ponerlo a dormir.

We found this puppy of approx. 4 month beside the street after neighbours called us. He was still alive but in a very bad shape and the vet had to put him to sleep....

Wir fanden diesen etwa 4 Monate alten Welpen im Strassengraben, nachdem uns Anwohner gerufen hatten. Zwar lebte er noch, war aber in so schlechtem Zustand, dass ihn der Tierarzt von seinem Leiden erlösen musste.

PETRIC
ANTES

BEFORE

VORHER

6 SEMANAS DESPUES

6 WEEKS LATER

6 WOCHEN SPÄTER

9 SEMANAS DESPUES

9 WEEKS LATER

9 WOCHEN SPÄTER

NEGRA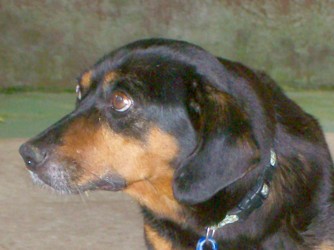 Negra tiene hoy aproximadamente 6 anos de edad. tuvo un dueno los ultimos anos, el cual trabaja cerda del Mercado de Atenas empacando en un supermercado. Ella estaba acostada en frente de la puerta o dando vueltas en el centro de Atenas. Ella debe haber estado en contacto con una cosa que de alguna manera le ha danado el stofago. Nosotros la recogimos muy flaca y la trajimos a la veterinara ya que estaba vomitando sangre y comida estos al menos por una semana. Negra necesita atencion especial y unda dieta la cual su ex dueno no puede proveer y ella estaba viviendo en una haula de la clinica veterinaria por casi 2 meses hasta nosotros encontramos un nuevo hogar. Alla ella esta muy bien y los duenos nuevos amanla.

Negra is

today

roundabout 6 years old

and had

an owner for the last years who is working near the Mercado of Atenas

,

packing bags in a supermarket. She was lying in front of the door or wandering around in the center of the town. There she must have been in contact with something damaging her esophagus. We

found her very thin,

picked her up and brought her to the vet after she was vomiting blood and food for more than a week.

Negra

needs special attention

and diet

which her former owner cannot provide.

So she was

living in the vets consultory

in a kennel

for nearby 2 month until we were able to find her a new home. She is doing fine and her new owners adore her.

Negra ist heute um die 6 Jahre alt und hatte die letzten Jahre einen Besitzer, der in der Nähe des Marktes von Atenas in einem Supermarkt als Tütenpacker arbeitet. Während seiner Arbeitszeit lag sie vor der Supermarkttür oder wanderte alleine im Zentrum von Atenas umher. Dort muss sie mit etwas in Kontakt gekommen sein, was ihre Speiseröhre nachhaltig schädigte. Wir fanden sie abgemagert und brachten sie zum Tierarzt nachdem sie bereits mindestens eine Woche Blut und Nahrung spuckte. Negra braucht besondere Aufmerksamkeit und eine Diät, welches ihr früherer Besitzer nicht bieten kann. Sie lebte knapp 2 Monate in der Tierarztpraxis im Käfig, bis wir ein neues Zuhause für sie finden konnten. Dort geht es ihr gut und die neuen Besitzer erfreuen sich an ihr.

PIPE
| | |
| --- | --- |
| 15.03.2008 | 10.04.2008 |

IA

Marzo / March / März 2008

Mayo / May / Mai 2008